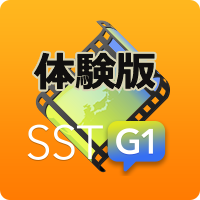 Subtitling Software
SSTG1 Tiral
SSTG1 Trial is a free tool for experiencing how to use the product.
Features
No dongle is needed. After user registration, it becomes available by downloading and installing.
You can experience the same user interface / operability as the subtitle production software SSTG1 Pro product version.
Compared with SSTG1 Pro , there are the following restrictions.
You can not save or export the created data.
It is not possible to open your .sdb file (a project file created with SSTG1 Pro).
You can open your video file, but subtitles can be produced for 3 minutes from the beginning.
Paid option functions such as editing function and import / export option are not available.
We do not provide any maintenance / support, since this tool is trial version.
How to use
User Registration
Download SSTG1 Trial installer
Install SSTG1 Trial
Let's try!
For the detailed procedure from user registration to start of use, please refer to the following quick start guide.
Since this tool is a trial version, we will not provide any support. Thank you for your understanding.